Christopher English - Painters
I consider myself to be a comtempory Symbolist artist.
It is my intention to show the symbolic images in my paintings as a complement to the imagery evoked in my poems.
Besides my web site entitledChristopher English's Symbolist Paintings and Poetry Page http://easyweb.easynet.co.uk/~c.english/index.html I have not yet had a one-man show of my art work. I have however exhibited my paintings with other people in several successful group exhibitions over the years.
I was born in England 1950. In 1970 I went to work for a Harrogate company of chemical combustion engineers in the drawing office. I started writing poems and painting in oil colours in my spare time.
I was made redundant from work in 1985 and decided that there was no future for me in drawing office work. I wanted to get a degree in fine art. So I did a foundation course in art and design at Harrogate Art College. I then went on to do a Fine Art Painting BA degree at the School of Art and Design at Loughborough University, where I graduated in 1994.
I continue to produce poetry and paintings in Loughborough.I Have produced my own book publication of my paintings, poems, prints and drawings. Details are on my website http://easyweb.easynet.co.uk/~c.english/index.html
Please contact me if you are interested in my work:
Fax: 01509 557603
Address: 21 York Road, Loughborough, Leicestershire LE11 3DA
Email: c.english@easynet.co.uk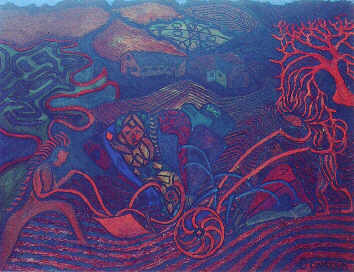 A Game of Cards in a Ploughed Field
Oil colour on canvas 47"x 36"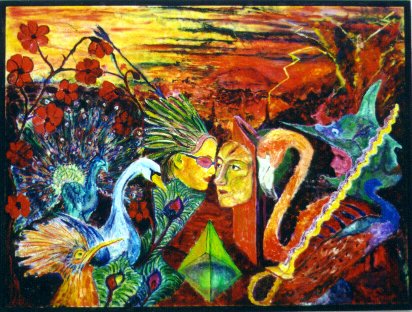 Door face - Shield face
Oil colour on canvas 48"x 36"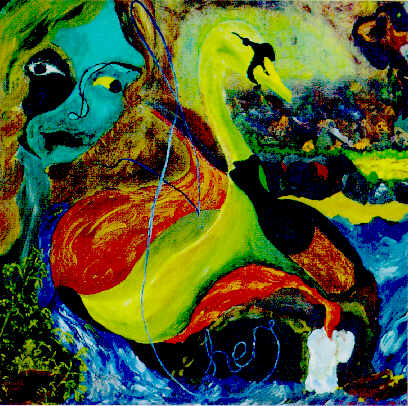 A Swan in a Flame
Oil colour on canvas 24" x 24"
All pages copyright 1995-2023 Simon Whiteside