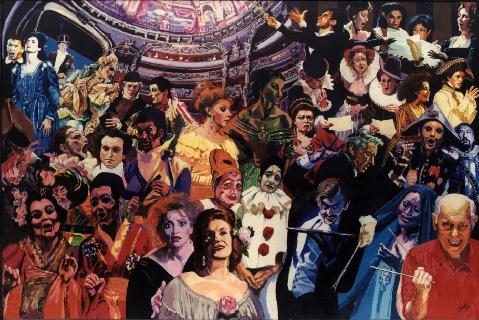 Images of Opera, in association with Samantha Bond Management presents this print entitled "On With The Motley" after the famous aria from Pagliacci.
This high quality reproduction (27"x20") of a large-scale original painting (3m x 2m) by John Dean*, who studied at Camberwell Art School and Royal College of Art. It depicts famous opera singers in roles particularly associated with them, as well as featuring world-renowned conductors. Pleasure for you and your opera-loving friends is guaranteed, as you argue over who the various singers are and the role they're performing. Apart from owning a copy yourself, you'll certainly want to make a gift of the print to any friend who enjoys a lively interest in one of the world's most exciting art forms.

This print will be individually signed by the artist.

Prints cost 25 UKP each including p&p. Send your order with cheque payable to:

Samantha Bond Management, 199 King's Road, London SW3 5ED.

Telephone: 0171 352 3767. Fax: 0171 351 4157

* The original painting is for sale at 8,000 UKP. Please contact us for further information.