I have been pursuing my career as an artist and teacher for seven years. During this time I have developed two sides to my work.
The first is as a studio-based artist, developing my own personal form of artistic expression, the other as a public artist, accepting commissions and facilitating large group art projects.
In my studio, my aim is to produce and develop "visual poems". My choice of imagery focusses upon objects and ideas for which I feel a sense of relish: things found, remembered, revived or reinvented.
Natural forms have always featured in my work, shapes such as leaves, feathers, lips, bones and hands etc.. allow me to animate.
Their binary growth patterns act for me as a metaphor for life and its constant battles.
Within a framed arena I create a world of erotic mystery where familiar symbols and objects can interact and spark off one another.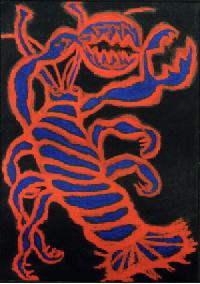 Lobster Erect
Pastel on Paper A1 (250 UKP unframed)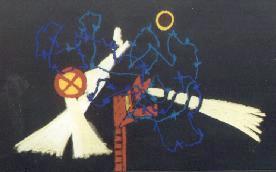 George and the Drag Queen
Pastel on Paper A1 (280 UKP unframed, 345 UKP framed)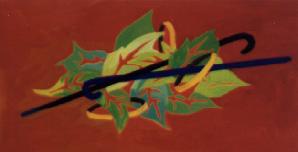 Chaplin
Gouache on Paper A5 (150 UKP unframed, 200 UKP framed )