I studied illustration and design at Newcastle Upon Tyne College of Art and Industrial Design. After this I worked in advertising as a commercial artist.
My love of the elements - water, air and earth - have naturally lead me into marine, aircraft and landscape painting. The sea and its attendant "matter" have resulted in paintings ranging from lobster pots to warships.
Another passion is flying which has made me equally at ease with painting aircraft - thus satisfying the air element.
A fondness for the Great Outdoors coupled with a fascination with light and shade have resulted in subjects as far apart as old farm machinery and woods.
My favourite medium is watercolour, but I am equally at home with oils and gouache.
I have had or shared in several exhibitions in England, including showing at the Patricia Wells Gallery near Bristol and the John Laing Exhibition. My works are to be found in private collections throughout Britain as well as the USA, Germany, France, Canada and Australia.
The images shown here are examples of previous work that has been sold. Please contact me if you are interested in my current collection.
Telephone: 0191 2530133
Address: 13 Selwyn Avenue, Whitley Bay, Tyne & Wear, NE25 9DH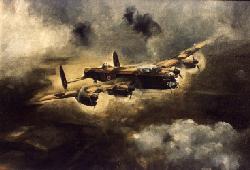 Making for Cover
Oil on Canvas 20"x30" (900 UKP )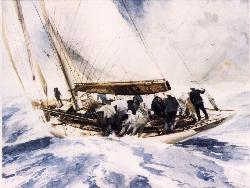 Candida
Watercolour and Gouache 18"x25" (800 UKP )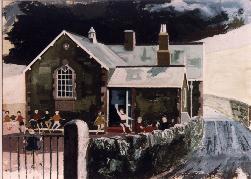 The Village School
Gouache 15"x10" (300 UKP )