Edinburgh College of Art Festival Summer School papermaking tutor - August 1995.
Edinburgh College of Art
1991-95 BA(Hons) Printmaking
Dumfries and Galloway College
1990-91: Foundation in Fine Art, 1988-90 National Diploma in Art/Design, James Thin Materials Award
Gracefield Arts Centre, Dumfries
May/June 1990, Publicity Design
Galloway Footwear
, South West Scotland based company producing specialist footwear. Worked in selection of colour, design and production. 1984-88
Summer School Tutors Exhibition
, Edinburgh 1995
Royal Scottish Academy:
Annual Exhibition Society of Scottish Artists:
Invited Artist
October 1995
Student Exhibition
February 1995
Prints for China
, Edinburgh College of Art 1995
Student Print Exhibition,
Falmouth College of Art
1995
"Open to Print"
, National Student Printmaking Competition 1994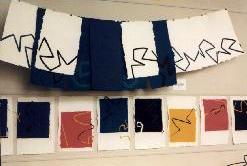 Ragas
Handcast Paper/Relief Print 34"x15" 28"x18" (130 UKP each)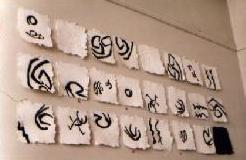 Randori
Handcast Paper/Lino Cut-Embossing 9"x9.5" (30 UKP each, 360 UKP for the series)