George Kilibarda - Painters
I am a painter of everyday life with a "taste for the light and life of the street".
I have exhibited widely including at the Nick Cotton Gallery, Watchett in Somerset, at Cardiff's Manor House Gallery at St David's Hall, at the Roy Miles Gallery, Mayfair and at the Llewellyn Alexander. In addition I have had work accepted by the Royal Academy.
I have also been responsible for the creation of sculptures in the award-winning "Garden of Welsh Myth and Magic" at the Garden Festival, Wales.
In 1993 I received a travel award to visit the former Yugoslavia as a War Artist.
I live in North Cardiff with my wife and 2 children. Much of the inspiration for my work comes from people and their activities.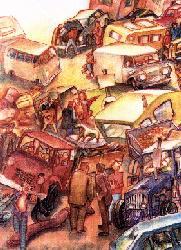 Gypsy Eviction
Pastel 16"x22" (280 UKP )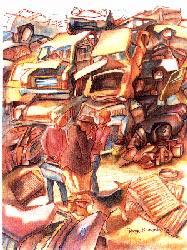 Junkyard Boys
Pastel 16"x22" (280 UKP )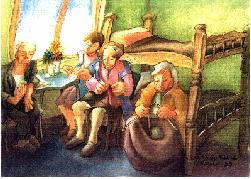 Serbian Refugees
Pastel 16"x22"