I was born in Warrington, Cheshire in 1953. I gained a Fine Art Degree from Reading University, and an MA from the Royal College of Art Sculpture School.
Since 1976 I have shown around the UK, London and Berlin. I currently show with the Harriet Green Gallery in Soho, London.
The works explore the boundary between painting and sculpture, using the optical ambiguity of surfaces. I visit sites with strong vertical fields, such as quarries, seashores and gorges to gather the material, and include the sky and what lies beyond, in an attempt to capture the transformations of light in a coherent superimposition.
If you like my work please contact me!
Telephone: 0181 692 1427
Address: Flat 2, 143a Greenwich South Street, London SE19 8NX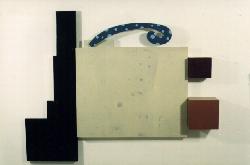 Rock Void and Wave
Acrylic on Plywood Box 200x150x20 cms (2,500 UKP )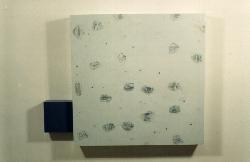 Chalk and Sea
Acrylic on Plywood Box 110x110x10 cms (1,500 UKP )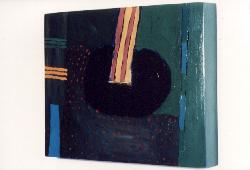 Fruiting Body
Acrylic on Plywood Box 60x50x5 cms (350 UKP )