I studied sculpture at West Surrey College of Art finishing in 1990.
It has been said that my work rests upon the opposition between high-tech equipment and the low-tech ceramic tiles with which it is made.
The observation is indeed true, but the objects also carry a menacing presence suggesting a former existence.
I like to present familiar objects with the authority of iconography.
I am currently working in utilitarian fabrics such as vinyl (see "Fly") to introduce an element of implied practicability.
My work can be viewed at my studio by prior arrangement.
If you want to buy a work or arrange a visit, please contact me at:
Address: Acme Studios, 52 Acre Lane, London SW2 5SP
Phone: 0171-738-7400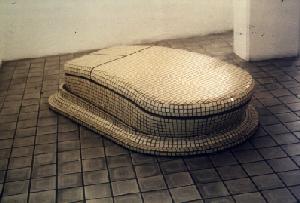 Mouse
Ceramic Tiles/Wood 175cm x 114cm (700 UKP )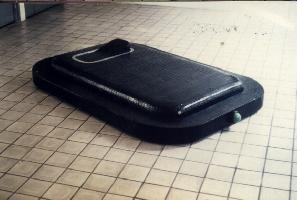 Rocker
Ceramic Tiles/Wood 190cm x 122cm (700 UKP )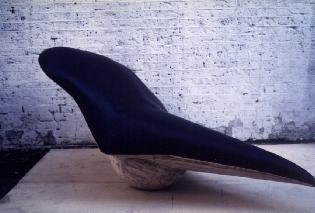 Fly
Vinyl & Beech 220cm x 129cm (1000 UKP )