Rebecca Ann Skeels -
I formed Baggy Bottom Designs in Cambridge in November 1994. In October 1994 I moved to a London workshop. I obtained my Honours in Three Dimensional Design at Gwent College.
Inspiration for my work is taken from numerous places, including museums, galleries, the environment and much more. Each piece is individually designed and handcrafted using mainly silver, and sometimes other materials such as stones and base metals, producing original one-off pieces of jewellery and accessories.
I will work to customer specifications and sell pieces wholesale as well as retail. My work is constantly changing and I am willing to arrange a meeting to show you my current stock. I have already sold work in retail outlets in and around Cambridge, London and Bath, and displayed in exhibitions in Cambridge, London, Poole amd Brighton.
My other work includes teaching and freelance design work for an international watch-making company. If you would like more information, please contact me!
Telephone: 0207-336 6837
Address: Unit 14 Cornwell House, 21 Clerkenwell Green, London EC1R 0DP
Email: Baggybottoms@iname.com
Web Site: http://www.cga.org.uk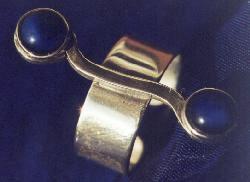 Ring
Silver with Blue Moonstones (28 UKP retail)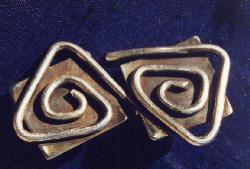 Earrings
Silver (26 UKP retail)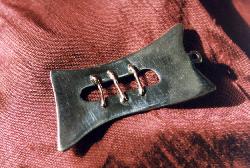 Pendant
Silver with Copper Wire (24 UKP retail)