All my work with digital media emerges in a symbiotic manner from the initial central idea or concept.
What started life as a visual doodle on video tape or a simple sound bite becomes a digital print, a visual poem, a video projection, a realtime film, a desktop video or all of the above.
Elements of the work ping-pong between media, often several months after the initial burst of artistic endeavour, so that some of the works continue to evolve through different levels of complexity or "versions".
Some may never truly be finished or completed to conflict with the traditional fixation with the finished artwork where the paint is allowed to dry and the artist never returns afresh to the canvas.
If you are interested in these sample works, or in commissioning work from me, please contact me at the following address:
Address: Town End Cottage, 23 Far Street, Bradmore, Nottingham NG11 6PF
Phone: 0115 932 2283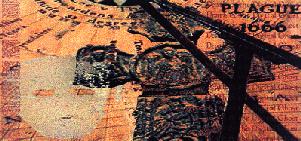 Death and the Digital Ghost (1996)
Digital Electronic Image 44.03 x 20.53 cm, Limited Edition of 50.<br> No. 1-15 (555 UKP each, unframed)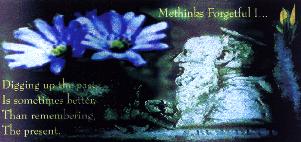 Forget me not... (1996)
Digital Electronic Image 44.03 x 20.53 cm, Limited Edition of 50<br> No. 1-15 (555 UKP each, unframed)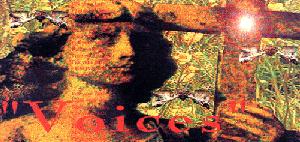 Voices (1996)
Digital Electronic Image 44.03 x 20.53 cm, Limited Edition of 50.<br> No. 1-15 (555 UKP each, unframed)